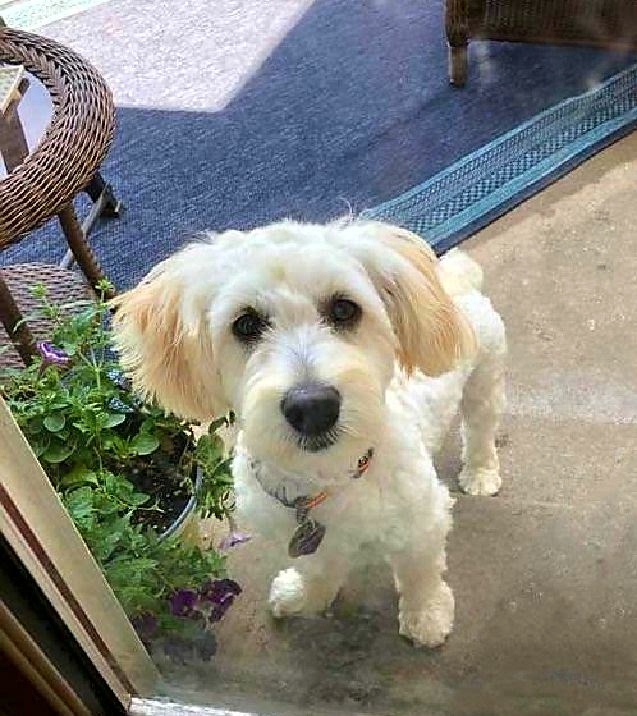 We adopted a Miniature Goldendoodle from John and Ida in February of 2018 and they were wonderful to work with. Great people and communication was excellent and they were very prompt in responding to all our questions! Millie is our precious miniature goldendoodle and she has the best personality we've ever had in our fur baby family. She loves kids, her and our 1.5 yr old grandson absolutely love playing with each other! She was also the easiest puppy we've ever had to potty train, it only took about two weeks and she was as potty trained! She loves playing fetch and also loves swimming and playing fetch in our pool! Absolutely best dog we've ever had! You will love working with John and Ida, great people! — Sheri O.
Just wanting to send a note saying how much we appreciate Dexter the Miniature Goldendoodle, he's such a wonderful dog we couldn't have asked for better. He's smart and well behaved which made potty training very easy. We would recommend anyone looking for a puppy to adopt from Central Illinois Poodles and Doodles. — Matt S.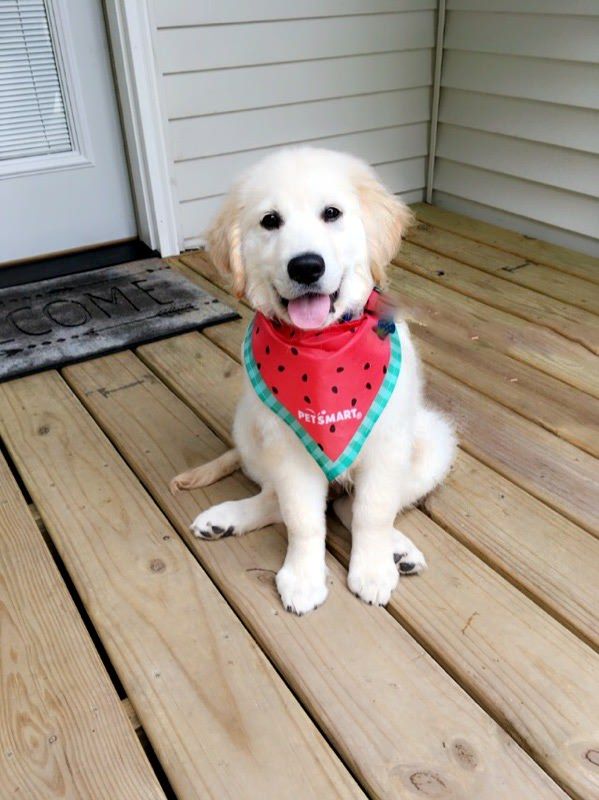 My husband and I brought our boy Lukas home in May 2018. We searched the internet endlessly for the perfect Golden Retriever puppy for our family. We were so happy when we found you. We fell in love with his beautiful creamy-color. We are head over heels for him! This little guy is very social and loves everyone. He is a pleasure and has quickly become part of our family. My experience overall was very good and we're very happy with our puppy. I look forward to adopting another puppy from the next litter you have! Thank you Ida, for being so great to work with and answering all my questions. — Vanessa F.
Montgomery, aka Monty has become the center of my world, as well as my husband's. He is absolutely perfect and everything we could have ever imagined. From the moment we saw him online and reached out to Ida Mae & John the process was seamless. I always felt safe in knowing that they provide a healthy and happy home for these little pups while they are awaiting their forever homes. Ida Mae was amazing at providing photo and video updates while we anxiously got closer to our pickup date. The Jess's were helpful in detailing what to expect from our little pup, the food they use, the exposure he had had and all veterinary related items as well. The only surprise for us was that Monty was a solo pup (which doesn't happen very often) resulting in him being bigger - but that's 100% alright with us, there is just more of him to love. He's a Standard F1 Goldendoodle (I know they raise other sizes as well) he is a gentle giant with a heart of gold and has a wonderful, sweet, curious demeanor. He comes to work with me everyday and is a perfect companion. My husband and I will 100% be adopting our next dog from the Jess family when the time is right! — Sundown H.